Episcopal News Service
May 16, 2018
Episcopal Church Presiding Bishop Michael Curry will preach at next weekend's wedding of Prince Henry of Wales – more informally referred to as Prince Harry – and the U.S. actress Meghan Markle, Kensington Palace announced May 12. Prince Harry, the grandson of Queen Elizabeth and sixth in line to the throne, will marry Markle at St. George's Chapel in Windsor Castle next Saturday, May 19 in a service conducted by the Dean of Windsor, David Conner. Archbishop of Canterbury Justin Welby will officiate.
The invitation from the couple to Curry to preach at the service is a departure from tradition for British royal weddings. While previous royal weddings have involved clergy from other Christian churches saying prayers for the couple, sermons are usually given by senior Church of England clergy. The service will be televised around the world, and it is likely that the presiding bishop, who refers to himself as the CEO of the Episcopal Church – the chief evangelism officer – won't resist the opportunity to talk about what he calls the Jesus Movement.
Presiding Bishop Michael Curry, shown here preaching on Palm Sunday at St. George the Martyr Anglican Cathedral in Jerusalem, was invited by Prince Harry and Meghan Markle to preach during their May 19 wedding. Photo: Mary Frances Schjonberg/Episcopal News Service
"The love that has brought and will bind Prince Harry and Ms Meghan Markle together has its source and origin in God, and is the key to life and happiness," Curry said. "And so we celebrate and pray for them today."
Prince Harry was born on Sept. 15, 1984 and was baptized at St. George's Chapel, Windsor, three months later. After completing his formal education, he spent a gap year in Australia and South Africa before training for military service. He served with the British Army in Afghanistan as an officer in the Royal Horse Guards and 1st Dragoons of the Household Cavalry, in the U.S.-led operation to remove the Taliban from power following the September 11 terror attacks in New York and Washington. His service in Afghanistan came to an end after his presence there was revealed by an Australian magazine; but he returned there a few years later in a deployment with the Army Air Corps. In 2014, he launched the Invictus Games for injured ex-service personnel; and is patron of a number of organizations, including the HALO Trust, which is working to remove mines from Qasr el Yahud – the site on the west bank of the River Jordan at the traditional site of the baptism of Jesus.
Meghan Markle was born on Aug. 4, 1981 in Los Angeles, California. Her parents, Doria Ragland and Thomas Markle, divorced when she was six years old. In her acting career, she has appeared in a number of roles, including in the films Get Him to the Greek, Remember Me, and Horrible Bosses. But she is best known her portrayal of the character Rachel Zane in the hit U.S.-legal drama series Suits. Her character, a paralegal who trained to become an attorney, was the love interest of phoney-lawyer Mike Ross. Markle married Trevor Engelson in 2011; but the couple divorced in 2013, long before Markle met Prince Harry.
The couple have met Archbishop Justin Welby on a number of occasions as part of the preparations for the wedding; and Markle asked Welby to baptize her. It has been widely reported that she was baptized and confirmed by Welby at St. James' Palace in London in March.
"It was very special," Welby told ITV News. "It was beautiful, sincere and very moving. It was a great privilege. . . You know at the heart of it is two people who have fallen in love with each other, who are committing their lives to each other with the most beautiful words and profound thoughts, who do it in the presence of God."
Previous royal weddings have involved a range of preachers. When Queen Elizabeth married Prince Philip in Westminster Abbey in November 1947, the service was conducted by the Dean of Westminster, Alan Don, while the wedding itself was officiated by Archbishop of Canterbury Geoffrey Fisher. The sermon was preached by Archbishop of York Cyril Garbett.
Prince Harry's mother and father, Prince Charles and Lady Diana Spencer, took the unusual decision of marrying at London's St. Paul's Cathedral in 1981. They were married by Archbishop of Canterbury Robert Runcie, who also preached. In 2005, after Diana's death, Prince Charles married his second wife Camilla, now Duchess of Cornwall, in a civil ceremony at Windsor Guildhall. This was followed by a Service of Prayer and Dedication at St George's, Windsor, conducted by Archbishop Rowan Williams. There was no sermon in that service.
Prince Harry's older brother, Prince William, married his wife Catherine at Westminster Abbey in 2011. The Dean of Westminster, John Hall, presided while Archbishop of Canterbury Rowan Williams conducted the wedding. London Bishop Richard Chartres, dean of Her Majesty's Chapels Royal, preached the sermon.
St. George's Chapel at Windsor Castle is located within the area of the Church of England's Diocese of Oxford; but it is outside the jurisdiction of the diocesan bishop. It is one of a small number of Church of England churches known as Royal Peculiars – which means that it is under the direct control of the monarch, rather than the diocesan bishop or archbishop. Among the other Royal Peculiars are Westminster Abbey, the five chapels that make up the Chapels Royal, and the Chapel of St Mary Undercroft, in the Houses of Parliament.
Anglican News Service
May 15, 2018
The Bishop of New Westminster, Melissa Skelton, has been elected as Archbishop and Metropolitan of the Ecclesiastical Province of British Columbia and Yukon. She will continue in her role as Bishop of New Westminster while taking on responsibility for the internal province. She is the first woman to be elected an Archbishop in the Anglican Church of Canada and only the second within the Anglican Communion. Earlier this year Bishop Kay Goldworthy was elected as Archbishop of Perth in the Anglican Church of Australia. Archbishops Melissa and Kay are responsible for internal provinces, and so are not primates.
There has been a female primate in the Anglican Communion: Bishop Katharine Jefferts Schori became the first – and so far only – female Primate when she was elected as Presiding Bishop of the US-based Episcopal Church in 2006, a role she held until her her term expired in 2015.
Archbishop Melissa was installed as diocesan bishop in March 2014 at the Vancouver Convention Centre and Christ Church Cathedral. The Ecclesiastical Province of BC and Yukon is one of four Provinces that comprise the Anglican Church of Canada. In her new role, the new archbishop will have responsibility for six dioceses: Yukon; Caledonia in northern British Columbia; the Territory of the People in central British Columbia – formerly the Anglican Parishes of the Central Interior, and prior to that, Cariboo; Kootenay in the eastern part of British Columbia, including the Okanagan; British Columbia – Vancouver Island and the coastal islands; and her own diocese of New Westminster, which covers the urban and suburban communities of Greater Vancouver and the Fraser Valley including the Sunshine Coast, from Powell River to Hope.
She was elected in the first ballot when 21 of the 24-member Provincial Electoral College gathered for a telephone conference and electronic vote. "This vote was historic not only because the first woman was elected Archbishop it was also the first election held entirely by electronic means," a diocesan spokesman said.
She will succeed Archbishop John Privett, who stood down as Metropolitan at the end of April, and who will complete his ministry as Bishop of Kootenay at the end of May.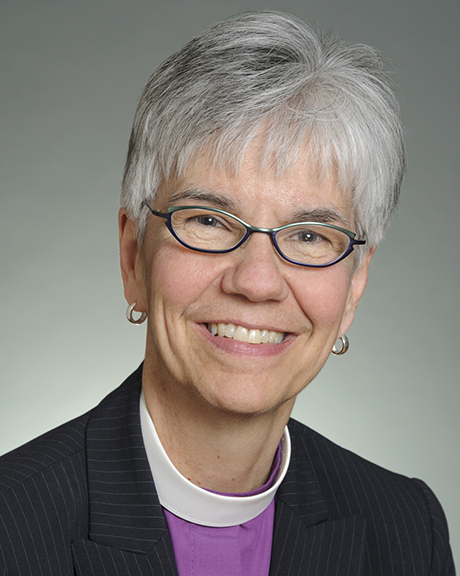 "I'm thrilled and deeply grateful for the support of so many in this process: the Provincial House of Bishops, Executive Council members, and those who worked diligently to create the electronic/phone balloting process that we used today," Archbishop Melissa said. "Succeeding Archbishop John Privett is a humbling task. My hope and conviction is that we're now embarking on a time of increasing cooperation and purpose in the life of our Province that will build on Archbishop Privett's good work over the past nine years.
"About being the first woman Metropolitan in the Anglican Church of Canada, all that I can say is thanks be to God for the privilege."
The new Archbishop takes office immediately and will be installed formally at the commencement of the Provincial Synod at Sorrento, BC, in September.